Cat Wine Pawty Pack 4 Pack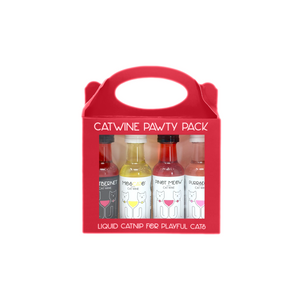 Cat Wine Pawty Pack: A Purr-fectly Fun and Wholesome Celebration for Your Feline Friend!
Meow! Are you looking to throw a paw-some party for your furry feline? Look no further! Introducing the Cat Wine Pawty Pack, a purr-fectly delightful collection of wines specially crafted for your cat's enjoyment. This unique bundle includes a variety of flavors made with natural ingredients, allowing you and your cat to celebrate together in style. Let me guide you through this exciting product, speaking from the perspective of a playful and sophisticated kitty.
A Tantalizing Selection
The Cat Wine Pawty Pack features an enticing selection of wines that have been expertly created to cater to your cat's refined palate. Each pack includes a variety of flavors made from natural ingredients, ensuring a delightful and enticing experience for your feline friend. From the sparkling notes of MosCATo to the rich and satisfying purrs of Catbernet, this collection offers a range of flavors to suit your cat's discerning taste buds.
Wholesome and Feline-friendly
This paw-some bundle isn't just about having a good time—it's also crafted with your cat's well-being in mind. The wines in the Cat Wine Pawty Pack are made from natural ingredients and are free from alcohol or any harmful additives. They are designed to provide a fun and safe way for your cat to indulge in a unique treat without compromising their health.
Unleash the Pawty Spirit
The Cat Wine Pawty Pack is more than just a collection of drinks—it's an opportunity to celebrate, bond, and create memorable moments with your feline companion. Host a paw-some gathering with your friends and their cats, and let the festivities begin! Fill your cat's bowl with their favorite wine flavor and watch as they enjoy the party in their own special way. It's a fantastic way to cherish the companionship and unique bond you share with your furry friend.
Safe and Reliable Ingredients
Your cat's health and happiness are our top priorities. That's why the Cat Wine Pawty Pack is made with high-quality, feline-friendly ingredients that have been carefully selected for their safety and enjoyment. Each bottle is created with love and attention, ensuring that you are providing your cat with a treat that is not only entertaining but also reliable and worry-free.
For Cats of All Tastes
The Cat Wine Pawty Pack is designed to cater to the preferences of all cats, regardless of their breed, age, or dietary needs. With a variety of flavors to choose from, you can find the purr-fect wine to delight your feline friend. Whether they prefer the exquisite flavors of Meowndavi or the refreshing taste of Purrignon, you'll have something to please every cat at the pawty.
Host a Cat-tastic Pawty Today!
Join me, the sophisticated and wine-loving kitty, in embracing the paw-some spirit of the Cat Wine Pawty Pack. Treat your feline friend to this purr-fect bundle showcasing a variety of flavors that will make their whiskers twitch with delight. Create joyful moments, celebrate companionship, and indulge in a unique treat that will make every gathering with your cat one to remember.
Meow! Please remember to provide the Cat Wine Pawty Pack as directed and consult with your veterinarian if you have any specific concerns about your cat's diet. Let this unique and fun-filled bundle bring endless joy and feline bliss into your cat's life. Cheers to a life filled with playful moments, healthy habits, and unforgettable cat-tastic celebrations!