Giant Cat Wine Purring Catnip Kicker Toy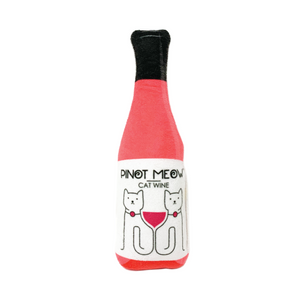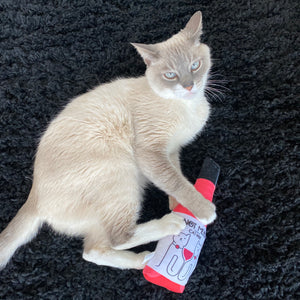 A Revolution For Cats Worldwide
This unique catnip kicker toy is designed to attract 100% of cats through its use of organic catnip and predator inducing noise to bring out the house lion in your cat.  
Product Description:
Utilizing a proprietary blend of organic catnip and valerian root, your cat will not be able to resist the temptation of this toy. But we understand that not all cats like catnip or herbs for that matter, so we have introduced a new concept to the cat toy world.
The patent pending noise making machine lying inside of this toy creates a purring sound that is insatiable to cats that brings out a superior predatory instinct that catnip just cannot do. If your cat is not attracted to normal toys, this toy is for them. 
The Pinot Meow Toy, when grasped and kicked by your cat, mimics a portrayal of your cat "drinking the bottle" as they play and destroy this toy to smithereens. Capture your cat full throttle for an epic photo (or video) that is sure to go viral.
Production Dimensions:
L x W x H 10" x 3" x 2"
4 AA Batteries Not Included For Noise Maker