Purrsecco + Meowmosa Catnip Bubbles Pawty Pack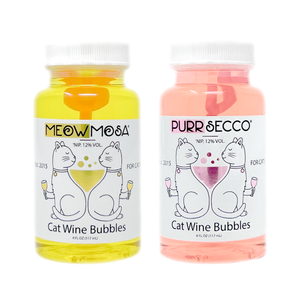 Purrsecco and Meowmosa Catnip Bubbles Pawty Pack: Double the Bubbly Fun!
Meow! Are you ready to double the fun and make your feline frolics even more paw-some? Introducing the Purrsecco and Meowmosa Catnip Bubbles Pawty Pack, a delightful twin pack of bubbly goodness that will whisker you away on an extraordinary adventure. Let me guide you through this purrfect party duo, from the perspective of a playful and joy-seeking kitty.
The Ultimate Bubbly Experience
Prepare for an unparalleled bubbly experience with the Purrsecco and Meowmosa Catnip Bubbles Pawty Pack. This paw-some duo features both the enchanting Purrsecco Catnip Bubbles and the whimsical Meowmosa Catnip Bubbles, creating a world of excitement and feline delight. With just a gentle puff, watch as a flurry of bubbles fills the air, turning any moment into a magical playtime extravaganza.
Twice the Playful Pawsitivity
With this Pawty Pack, you'll never have to choose between Purrsecco or Meowmosa Catnip Bubbles again. Now you can enjoy both playful concoctions, doubling the joy and laughter for you and your furry friends. Embrace the uninhibited happiness that comes with chasing, swatting, and popping bubbles of pure bliss, reflecting the unique character of each product.
Safe and Whisker-Friendly Fun
Rest assured, the makers of both Purrsecco and Meowmosa Catnip Bubbles prioritize your safety and delight. Made with all-natural, cat-friendly ingredients, these bubbles are designed to provide a worry-free playtime for you and your feline companions. You can bat at the bubbles, pounce on them, and revel in their enchanting scents, knowing that they are crafted with your well-being in mind.
A Burst of Whiskerlicious Variety
The Purrsecco and Meowmosa Catnip Bubbles Pawty Pack offers a tantalizing taste of variety for your playful paws. Engage in the whimsical world of Meowmosa bubbles and savor the delightful citrusy scent, then switch gears to the sparkling sensation of Purrsecco bubbles with their irresistible catnip aroma. Enjoy the best of both worlds, creating a sensory wonderland that keeps your feline friends captivated and entertained.
A Pawty for All Occasions
This Pawty Pack is your ticket to a paw-some celebration. From playful playdates to feline fiestas, the Purrsecco and Meowmosa Catnip Bubbles Pawty Pack sets the stage for unforgettable moments of joy, laughter, and connection with your family and feline friends. Share the magic, engage in spirited play, and create memories that will make everyone purr with happiness.
Embrace the Double Bubbly Bliss
Join me, the whimsical and playful kitty, in embracing the double bubbly bliss of the Purrsecco and Meowmosa Catnip Bubbles Pawty Pack. Order your twin pack today and let the bubbling adventures unfold. Unleash your inner kitten, revel in the enchantment of chasing and popping bubbles, and create a world of feline playfulness and joy like never before.
Meow-wow! Please remember to enjoy Purrsecco and Meowmosa Catnip Bubbles responsibly and supervise your playtime adventures. Share the bubbles of joy with your fellow feline friends, and make every occasion a paw-some celebration. Cheers to a life filled with double the excitement, bubbling frolics, and endless moments of bliss!