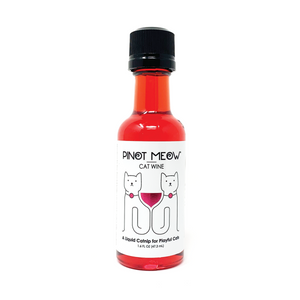 Pinot Meow Cat Wine: Uncork a Cat-tastic Adventure!
Meow! I'm Pinot Meow, the delightful and irresistible cat drink that will whisker you away on a fabulous feline adventure. From the perspective of a cat, let me tell you all about the wonders of Pinot Meow Cat Wine!
A Paw-some Blend
Crafted with the sophisticated taste buds of cats in mind, Pinot Meow is a delicious blend of premium catnip and water. It's a tantalizing concoction designed to delight and captivate your cat's senses like never before!
Aromatic Delights
Picture this: as you uncork a bottle of Pinot Meow, the aromatic notes of freshly grown catnip fill the air. Your whiskers start to twitch in excitement as you catch a whiff of the pure bliss awaiting you.
A Sensory Wonderland
Every sip of Pinot Meow is an adventure for your feline senses. The taste is crisp and refreshing, with a hint of delightful catnip goodness that will have you purring with delight. It's the perfect way to unwind after a long day of chasing shadows and pouncing on imaginary objects.
A Meow Meeting Place
Hosting a pawty with fellow feline friends? Pinot Meow is the ultimate icebreaker. It brings cats together, sparking playful interactions and creating a bond among kitty companions. Whether it's a casual get-together or a formal gathering, Pinot Meow sets the mood for a meow-tastic time!
Pawsitively Safe
We prioritize your health and safety above everything else, which is why Pinot Meow is made with all-natural, non-alcoholic ingredients. You can enjoy every sip without ever worrying about any unwanted side effects. It's a guilt-free indulgence!
Join the Pinot Meow Craze
Jump on the bandwagon and treat your furry friend to an exquisite experience unlike any other. Order your bottle of Pinot Meow Cat Wine today and let the adventures begin!
Warning: Pinot Meow may cause excessive purring, heightened playfulness, and uncontrollable cuteness. It's a risk worth taking!
Remember, always enjoy Pinot Meow responsibly and share the joy with your feline companions. Cheers to a pawsome time together!
What are the ingredients?
Each blend of cat wine contains filtered mountain water, organic USA grown and small batch brewed catnip extract, 100% alaskan fish oil, natural human grade beet red color and potassium sorbate (a non-toxic preservative)